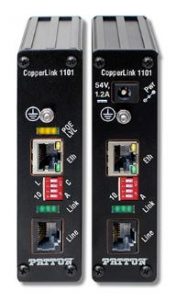 The Patton Electronics CL1101E units are industrial POE Ethernet Extenders designed to extend Ethernet and Power to distances as great as 2KM.
They work in pairs, with a local unit and a remote unit as illustrated below.

Here are the relevant part numbers.
CL1101E/PAFA/RJ45/EUI-2PK Industrial CopperLink PoE Extender Kit 1x 10/100; 802.3af (mode A); RJ45 Line; Line Powered; AC Adapter 100-240VAC
CL1101E/L/P/RJ45/EUI Industrial CopperLink PoE Local Extender; 1x 10/100; RJ45 Line; 100-240VAC
CL1101E/R/PAFA/RJ45/E Industrial CopperLink PoE Remote Extender 1x 10/100; 802.3af (mode A);RJ45 Line; Line Powered
You can find more details about these products and the specifications here and here.
Contact us for more information and pricing.