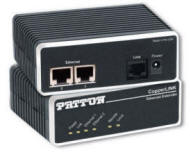 The Patton 2151 Ethernet Extender Kits are 16 Mbps units which work to distances less than 1 mile.  They replaced the earlier Patton 2168 Models
Both have been replaced by the CopperLink CL1212 or the CopperLink CL1214
Patton 2151/EUI
Patton 2151/EUI-2PK
Patton 2151/E-SKD
For more information go to our main page:
Patton Copperlink 2151
NOTE: The Patton 2151 reached "end of life". We recommend the Patton CopperLink CL1212 units as the best replacement.
With achievable line rates up to 168 Mbps, the CL1212 eliminates the bandwidth constraints commonly experienced with other copper-based transmission technologies. The Model 1212 is engineered to re-use existing infrastructure previously employed in such legacy applications as alarm circuits, E1/T1 circuits, RS-232, RS-422, RS-485, CCTV and CATV. Many newer cabling standards are also supported, including Cat 5e, Cat 6 and Cat 7.
A built-in two-port Ethernet switch makes the CopperLink CL1212 ideal for delivering multiple IP information streams over a single cable. At a guardhouse or security kiosk for example, you could aggregate IP data from a laptop and a high-resolution IP video camera for simultaneous transmission over a single Ethernet connection.
Here are various replacement CL1212 Models.
CL1212/EUI High Speed CopperLink Ethernet Extender; 2 x 10/100BaseTX; RJ45 Line, 100-240VAC
CL1212/EUI-2PK High Speed CopperLink Ethernet Extender Kit (Local and Remote); 2 x 10/100BaseTX; RJ45 Line, 100-240VAC
CL1212/TB/EUI High Speed CopperLink Ethernet Extender; 2 x 10/100BaseTX; Terminal Block Line, 100-240VAC
CL1212/TB/EUI-2PK High Speed CopperLink Ethernet Extender Kit (Local and Remote); 2 x 10/100BaseTX; Terminal Block Line, 100-240VAC
If you need an industrial version :
CL1212E/EUI Extended Temperature CopperLink High Speed Auto Rate Extender; 2 x 10/100BaseTX; RJ45 Line Connector; 100-240VAC
CL1212E/EUI-2PK Extended Temperature CopperLink High Speed Auto Rate Extender Kit (Local and Remote); 2 x 10/100BaseTX; RJ45 Line Connector; 100-240VAC
CL1212E/TB/CC/EUI Extended Temperature CopperLink High Speed Auto Rate Extender; 2 x 10/100BaseTX; Terminal Block Line Connector; Conformal Coated; 100-240VAC
CL1212E/TB/EUI Extended Temperature CopperLink High Speed Auto Rate Extender; 2 x 10/100BaseTX; Terminal Block Line Connector; 100-240VAC
CL1212E/TB/EUI-2PK Extended Temperature CopperLink High Speed Auto Rate Extender Kit (Local and Remote); 2 x 10/100BaseTX; Terminal Block Line Connector; 100-240VAC
Call us at 301-924-7400