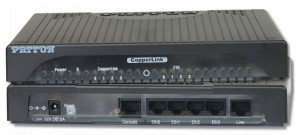 The Patton CopperLink CL2300 series of Ethernet Extenders resemble the older Patton 2161 and Patton 2162 series of Ethernet Extenders.   The new CL2300 units are backward compatible with the 216X series and introduce the Patton Trinity 3 Operating system.  Furthermore, the CL2300's offer a PoE option, SSH, Remote Management, and Stateful Firewall.
These extenders are typically used to extend Ethernet to distances between 3/4 mile and 5 miles.  They bond up to 4 twisted pairs to achieve the desired rate and reach.
1 Pair: 5.7 to 15.3 Mbps
2 Pair: 11.4 to 30.6 Mbps
3 Pair: 17.1 to 45.9 Mbps
4 Pair: 22.8 to 61.2 Mbps
The CL2300 Series have 4 Ethernet ports and one "line" port. They also feature a 13 watt PoE option on one of the Ethernet ports. Depending on how many pairs you have, and whether you need PoE, you can select from following models:
Patton CL2302/4ETH/AF/EUI-2PK
Patton CL2302/4ETH/EUI-2PK
Patton CL2304/4ETH/AF/EUI-2PK
Patton CL2304/4ETH/EUI-2PK
These units are backwards compatible with the older Patton 2160 series and they can be teamed with Patton's CL4324 DSLAM as CPE units.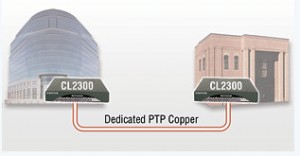 For more information call us at 610-399-3911