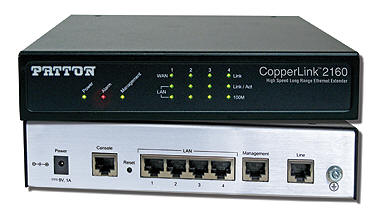 If you need to extend Ethernet, point to point, across a distance of a half mile or more…
If  you have multiple twisted pair of copper available…
You'll want to consider the Patton 2162 Ethernet Extenders as the best bandwidth solution. 
2162/EUI-2PK 45 Mbps 8-Wire Ethernet Extender Kit
With these units you can use 1, 2, or 4 pair twisted pair to achieve maximum transmission speeds of 22.8 Mbps at a distance of 1.6 miles (2.6km).  And they will work to distances exceeding 5 miles.
These units come in a 2-Pack Kit with everything you need to extend your network the distance.  The manufacturer part number is 2162/EUI-2PK .   For more information click on the link above, or call us at 610-399-3911.