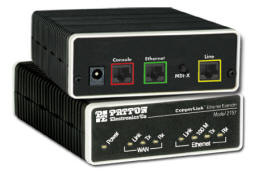 New models have replaced the 2157's, notably the CL1314 and CL2300 devices.
The Patton 2157 was an extremely popular long distance Ethernet extender capable of 5.7 Mbps speeds and working to distances approaching 6 miles.
Patton 2157/L/UI
Patton 2157/R/UI
Patton 2157/UI-2PK
High Speed Extension—With the Model 2157 you get speeds up to 4.6 Mbps over just a single twisted pair of copper
Auto-rate Selection—Just plug the units in, and they will determine the maximum rate possible for the connection
CopperLink 2-Wire Connection—Easy 2-wire CopperLink connection via built-in RJ-11 port
Auto-sensing Ethernet—Auto 10 or 100Base-T and full or half-duplex Ethernet operation
Transparent LAN Bridging—Passes higher layer protocols and supports 802.1Q VLAN tagging
Automatic Learning, Aging, and Filtering—Only allows packets with addresses outside the LAN to be forwarded
Made in the USA — Patton's American-made manufacturing process delivers high-quality networking solutions with reliability you can trust.
Whether it's connecting corporate LANs or remote offices, the 2157 is the simple solution for ensuring the best combination of speed and distance in the industry. Many LAN extenders are set for a single rate, or require difficult configurations in order to connect LANs at different distances. With its auto-rate adaptation feature, the Model 2157 ensures that users get the highest speed possible for the distances they are trying to reach. To make it even simpler to use, the Model 2157 comes with a built in MDI-X switch to allow easy connection to LANs or PCs with no need for worrying about whether you have a cross-over cable or not. Setup is as consists of connecting the Ethernet port, connecting the copper twisted pair, and powering up the units! Patton's Model 2157 is the perfect fit for cost-effective, simple, and efficient LAN extension!
Specifications
Protocol: Transparent to higher layer protocols. Supports 802.1 Q VLAN tagged packet transmission
Transmission Line: Single twisted pair
Line Rates: Auto-Rate adaptive from 64 kbps to 4.6 Mbps
DTE Rates: All 64k steps from 64 to 4608 kbps
Line Coding: TC-PAM
LED Status Indicators: WAN: Link, TD, RD, Ethernet: Link, 10/100, TD, RD, Power
Connectors: RJ-11 on copper line side, RJ-45 for Ethernet connection, shrouded male IEC320 power connector;
Power: External 90 – 260 VAC, 50 – 60 Hz (Universal Input), 10 W. external 40 – 60 VDC, 10W (DC option)
Line Interface: Transformer coupled, 1500 VAC isolation.
Compliance: FCC Part 15, CE Mark per EMC directive 89/336/EEC and Low Voltage Directive 73/23/EEC, UL1950 UL and cUL listed (Rev A: Listing in process)
Op. Temp.: 32 – 122°F (0–50°C)
Humidity: 5 – 95%, non-condensing
Altitude: 0 – 15,000 ft (0 – 4,600 m)
Dimensions: 7.3 x 6.6 x 1.62 in. (185 x 168 x 41 mm)
Weight: 2.0 lbs (1.0 kg).
Call 301-924-7400