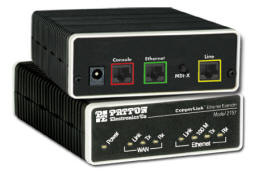 The Patton 2157 was an extremely popular long distance Ethernet extender capable of 5.7 Mbps speeds and working to distances approaching 6 miles.
Patton 2157/L/UI
Patton 2157/R/UI
Patton 2157/UI-2PK
New models have replaced the 2157's, notably the CL1314 and CL2300 devices.
Specifications
Protocol: Transparent to higher layer protocols. Supports 802.1 Q VLAN tagged packet transmission
Transmission Line: Single twisted pair
Line Rates: Auto-Rate adaptive from 64 kbps to 4.6 Mbps
DTE Rates: All 64k steps from 64 to 4608 kbps
Line Coding: TC-PAM
LED Status Indicators: WAN: Link, TD, RD, Ethernet: Link, 10/100, TD, RD, Power
Connectors: RJ-11 on copper line side, RJ-45 for Ethernet connection, shrouded male IEC320 power connector;
Power: External 90 – 260 VAC, 50 – 60 Hz (Universal Input), 10 W. external 40 – 60 VDC, 10W (DC option)
Line Interface: Transformer coupled, 1500 VAC isolation.
Compliance: FCC Part 15, CE Mark per EMC directive 89/336/EEC and Low Voltage Directive 73/23/EEC, UL1950 UL and cUL listed (Rev A: Listing in process)
Op. Temp.: 32 – 122°F (0–50°C)
Humidity: 5 – 95%, non-condensing
Altitude: 0 – 15,000 ft (0 – 4,600 m)
Dimensions: 7.3 x 6.6 x 1.62 in. (185 x 168 x 41 mm)
Weight: 2.0 lbs (1.0 kg).
Call 610-399-3911