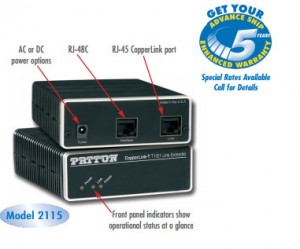 Patton Electronics' popular CopperLink 2113 / 2115 E1 T1 Extender products have reached end of life.  We may have new or refurbished Patton or Black Box branded units still in stock.   Contact us to check.
We now recommend that our customers consider the Data Connect Copper-T units for extending T1 and E1 demarcs and circuits over copper.
Patton 2113A/EUI-2PK
Patton 2115/EUI-2PK
Patton 2115/L/EUI
Patton 2115/R/EUI
Patton's CopperLink-T Model 2113 & 2115 T1/E1 Extenders extend T1 and E1 circuits beyond their typical reach while conserving the number of wire pairs used.
With the CopperLink-T™ extenders, zero configuration is required. Simply take them out of the box, put them on either side of the dry copper pair, connect your T1 or E1 device and the circuit will light up immediately!