The CopperLink 1300R Series Ruggedized Long-Range Ethernet Extenders use single-twisted-pair cabling to interconnect remote LANs or network-enabled devices up to 6 miles (10 km) apart. Realize the best-possible speed distance combination in the industry!
(For shorter distances, consider the Patton CL1214E).
(If you have more than one twisted pair available consider the CL2300E)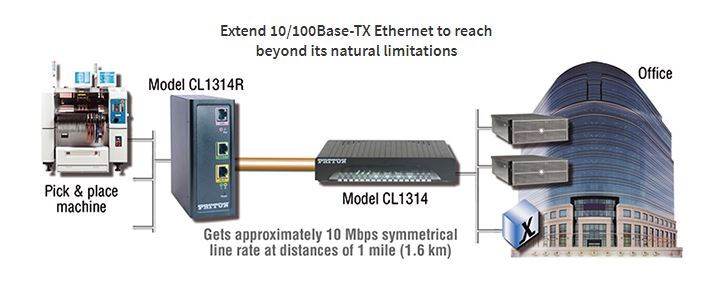 High Speed Extension—Realize symmetrical line rates of over 30 Mbps.
Multi-rate Selection—Just plug the units in and select the ideal user-configurable rate for your application.
Ethernet over 2 or 4 wires—Easy 2 or 4 wire (1 to 2 twisted pairs) connection via an RJ45 port. The additional pair offers additional bandwidth and failover.
Ruggedized— Operating temperature of -40 to 85°C and optional conformal coating to protect against condensing humidity and corrosion.
Hardened—Aluminum enclosure designed to meet IP40 specifications; DIN rail mount included
Up to two Ethernet ports—The CL1311R has one RJ-45, 10/100Base-T Ethernet port. The CL1314R has four RJ-45, 10/100Base-T Ethernet ports.
Transparent LAN Bridging—Transparently pass higher-layer protocols with support for 802.1Q VLAN tagging.
Automatic Learning, Aging, and Filtering—Keeps local traffic local, ensuring efficient utilization of the long-range link.
Made in the USA— Patton's American-made manufacturing process delivers high-quality networking solutions with reliability you can trust.
CL1311R/L/CC/EUI Ruggedized 5.7 Mbps CopperLink Ethernet Extender (Local); Conformal Coated; 1 x10/100; -40 to 85C; 100-240VAC
CL1311R/L/E Ruggedized 5.7 Mbps CopperLink Ethernet Extender (Local); 1 x10/100; -40 to 85C; No Power Supply
CL1311R/L/EUI Ruggedized 5.7 Mbps CopperLink Ethernet Extender (Local); 1 x10/100; -40 to 85C; 100-240VAC
CL1311R/R/CC/EUI Ruggedized 5.7 Mbps CopperLink Ethernet Extender (Remote); Conformal Coated; 1 x10/100; -40 to 85C; 100-240VAC
CL1311R/R/E Ruggedized 5.7 Mbps CopperLink Ethernet Extender (Remote); 1 x10/100; -40 to 85C; No Power Supply
CL1311R/R/EUI Ruggedized 5.7 Mbps CopperLink Ethernet Extender (Remote); 1 x10/100; -40 to 85C; 100-240VAC
CL1314/R/EUI 5.7 Mbps CopperLink Ethernet Extender (Remote); 4 x10/100; 100-240VAC
CL1314MDE/EUI Ruggedized 5.7 Mbps CopperLink Multi-Drop Ethernet Extender; 2 x CopperLink; 4 x10/100; -40 to 85C; 100-240VAC
CL1314R/L/CC/EUI Ruggedized 5.7 Mbps CopperLink Ethernet Extender (Local); Conformal Coated; 2 x10/100; -40 to 85C; 100-240VAC
CL1314R/L/E Ruggedized 5.7 Mbps CopperLink Ethernet Extender (Local); 2 x10/100; -40 to 85C; No Power Supply
CL1314R/L/EUI Ruggedized 5.7 Mbps CopperLink Ethernet Extender (Local); 2 x10/100; -40 to 85C; 100-240VAC
CL1314R/R/CC/E Ruggedized 5.7 Mbps CopperLink Ethernet Extender (Remote); Conformal Coated; 4 x10/100; -40 to 85C; No power supply
CL1314R/R/CC/EUI Ruggedized 5.7 Mbps CopperLink Ethernet Extender (Remote); Conformal Coated; 2 x10/100; -40 to 85C; 100-240VAC
CL1314R/R/E Ruggedized 5.7 Mbps CopperLink Ethernet Extender (Remote); 2 x10/100; -40 to 85C; No Power Supply
CL1314R/R/EUI Ruggedized 5.7 Mbps CopperLink Ethernet Extender (Remote); 2 x10/100; -40 to 85C; 100-240VAC
CL1324/EUI-2PK CopperLink Long Range Ethernet Extender Kit; 2 pair; 4 x10/100; external 100-240VAC
CL1324/L/EUI CopperLink Long Range Ethernet Extender (Pre-Config Local); 2 pair; 4 x10/100; external 100-240VAC
CL1324/R/EUI CopperLink Long Range Ethernet Extender (Pre-Config Remote); 2 pair; 4 x10/100; external 100-240VAC