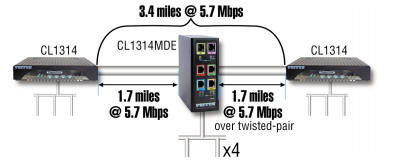 Use the CopperLink 1314MDE Multi-Drop Ethernet Extender to interconnect and daisy chain multiple remote networks and network enabled devices up to 3.4 miles or more apart using single-twisted-pair cabling.
The Patton CL1314MDE industrial grade multi-drop-and-insert Ethernet Extenders allow network engineers to run a string of Ethernet Extenders across twisted pair infrastructure, inserting Ethernet devices along the way.  Combining two Ethernet Extenders and a 4 port switch The Patton CL1314MDE units work with each other, or with the less expensive Patton CL1314 units (at the ends)
Patton CL1314MDE/CC/EUI  Conformal Coated for humidity
Patton CL1314MDE/EUI
Now drop and add ETHERNET links are easy. 
For more information call us at 301-924-7400
The CL1314MDE Multi-Drop Ethernet Extender used in conjunction with the CL1314R makes Ethernet extension a breeze. The MDE series of Ethernet Extenders allows users to replace their legacy serial coms with cost-effective Ethernet (IP) that is easy and inexpensive to set up. Featuring plug-and-play installation, the CL1314 MDE leverages existing copper twisted-pair infrastructure to interconnect Ethernet devices and networks at moderate speeds over long distances. The MDE Extender not only allows multi-drop functionality but also serves a repeater function doubling your maximum distance at every hop.
Operating over standard 0.5 mm (24 AWG) voice-grade wiring, the CL1314 MDE delivers speeds up to 5.7 Mbps and extends Ethernet connections across distances ranging from 2.7 to 6.9 km (1.7 to 4.3 miles) per hop. Whether you need connect to remote offices, kiosks, guard stations, train stations, digital sensors or IP cameras—Patton Ethernet Extenders offer the industry's optimum combination of speed and distance. Patton's CopperLink Ethernet Extenders ensure hassle-free set-up and operation, while achieving the highest possible line rate for the required distance and electromagnetic environment. Users "hard-set" the desired line rate via DIP switches or console Telnet.
The CL1314 MDE comes with a built-in four-port, auto-sensing, 10/100Base-TX Ethernet switch that provides automatic medium-dependent interface crossover capability (auto-MDIX). That means you can use cross-over or straight through cables to connect up to four Ethernet devices. The auto-MDIX feature detects the polarity of the cabling on each port and automatically configures the signaling to match. Absolutely no user-configuration is required.
Operating at layer 2 of the OSI model (data link layer), the CL1314MDE (and the CL1314R) transparently passes all higher-layer protocols—including VLAN tagging, multicast addressing, VPN pass-through for IPsec, and all IP-video compression schemes. All common industrial protocols are also transparently supported, including MODBUS/TCP and PROFINET IO.
The set-up is easy! Plug in the twisted pair into each Copperlink port, then plug in up to four LAN devices with Cat 5 or greater cabling, and apply power! For simple, cost-effective and efficient Ethernet extension, Patton's CopperLink Ethernet Extenders are the ideal solution!