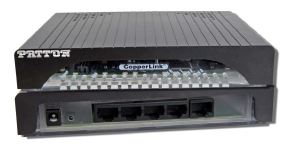 Patton CL1214/BNC/EUI
Patton CL1214/BNC/EUI-2PK
Patton CL1214/E
Patton CL1214/E-2PK
Patton CL1214/EUI
Patton CL1214/EUI-2PK
Patton CL1214/S/EUI-2PK
Patton CL1214/TB/EUI
Patton CL1214/TB/EUI-2PK
Patton CL1214/TB/S/EUI-2PK
Patton Electronics has refined their model numbers for greater clarity and consistency.  The Patton CL1214 is the same product as the flagship Patton 2174, with a new name.
The CL1214 Ethernet Extenders are used to extend Ethernet to distances generally less than one mile.  Different profiles, with symmetry or asymmetry can be selected to maximize bandwidth over various distances for various applications.  Options are also provided so the copper between units can be terminated with RJ-45's, or a terminal block, or coax connectors.
The Patton CL1214E is an extended temperature, ruggedized version of the same product.  If you liked Patton's smaller, classic form factor, with only two Ethernet ports (instead of four) the Patton CL1212 Ethernet Extender Kits are what you need .
Call 610-399-3911 for more information, discount pricing, or to order.