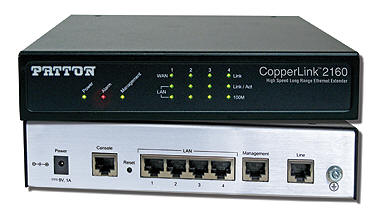 Patton 2161/EUI-2PK
Lets say you need to extend your Ethernet network to a location 6,000 feet away.   Lets assume you have at copper twisted pairs running from point to point.   What device will give you a maximum bandwidth connection?
A customer with that scenario called today.   The Patton 2160 products work over either (1) (2) or (4) twisted pair (or 2, 4, or 8 wires).    We recommended the Patton 2161 4-wire units which can go the distance with up to 22 Mbps worth of bandwidth.
Maybe you have more than one twisted pair from point-to-point…and distances are substantial.  Like our customer, you don't want to run fiber.  Well….here ya go.  Take a look at the Patton 2160 family of products.
For more information  call 610-399-3911.