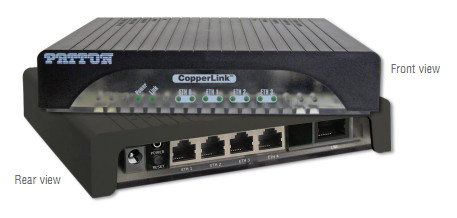 The Patton CL1314 Ethernet Extenders are the designated replacement for the Patton 2157 units.
The Patton engineers have developed the Copperlink CL1314 to work at long range distances in excess of 1 mile.  These units are plug and play and feature the built in 4-Port Ethernet switch.
Ruggedized CL1314R versions are available as well as multi-drop CL1314MDE versions.  See the product SKU's below.
Patton CL1314/EUI-2PK
Patton CL1314/L/EUI
Patton CL1314/R/EUI
Patton CL1314R/L/CC/EUI
Patton CL1314R/L/E
Patton CL1314R/R/CC/EUI
Patton CL1314R/R/E
Patton CL1314R/R/EUI
For more information, visit our technical page on the Patton CL1314, or call a sales engineer for technical information and pricing at 610-399-3911.