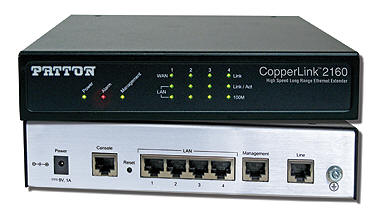 The Patton Electronics 2160/EUI-2PK is the logical upgrade path for customers who have used the Patton 2157 Long Range Ethernet Extender kits.
Patton 2160/EUI-2PK 11.4 Mbps 2-Wire Ethernet Extender Kit
Patton 2161/EUI-2PK 22.8 Mbps 4-Wire Ethernet Extender Kit
Patton 2162/EUI-2PK 45 Mbps 8-Wire Ethernet Extender Kit
Both models use G.shDSL.  The newer 2160 units feature a higher maximum data rate and multiple Ethernet Ports.
Of course the Patton 2157 units still have their loyal following…with their smaller footprint and field proven reliability.  We recommend and stock both products.  The 2160's are actually a little less expensive than the 2157's.
We offer a number of Long Range Ethernet Extenders for distances greater than 1 mile, including the Patton 2161 4 wire and the Patton 2162 8 wire units.
For pricing or more information call us at 610-399-3911