Ruggedized Extended Temperature
Ethernet Extenders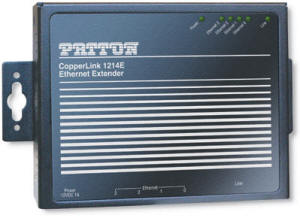 Patton CL1214E/12
Patton CL1214E/CC/12
Patton CL1214E/CC/EUI
Patton CL1214E/CC/TB/12
Patton CL1214E/CC/TB/EUI
Patton CL1214E/EUI
Patton CL1214E/TB/12
Patton CL1214E/TB/EUI
Its been a long time coming, but here is the long awaited replacement for Patton's 2172R and 2173R Ruggedized Ethernet Extenders.  And the phenomenal speeds and versatility offered by these new Ethernet Extenders make them well worth the wait.
Here are a few of the long anticipated features:
Rugged Metal Cases
Extended Operating temperature of -40 to 85°C and optional conformal coating to protect against condensing humidity.
Data-transmission mechanism  fully transparent to such IP video compression schemes as MPEG-4, H.264 and MJPEG.
Flexible Installation—Wall-mount ready and an optional DIN rail mounting kit is available.
Multiple Line Rates Supported—Switch-selectable rate mode options optimize rate and reach for the noise environment, wire gauge/type and length.
A built-in 4-port Ethernet switch ideal for delivering multiple IP information streams over a single cable. Aggregate IP data from a laptop, a motion sensor, and two high resolution IP video cameras for simultaneous transmission over a single Ethernet connection.
Low Voltage DC and Terminal block options Works to distances up to 3km (10,000 feet)
For more information and pricing, simply call us at 610-399-3911